On our final day with our driver, that tuk-tuk got a good workout. We strapped on our dust masks and rode well out of town, to explore the "faraway" temples- the ones further from Siem Reap.
Some visual highlights from our visit to Banteay Sray, Banteay Sray, Prasat Kravan, Preah Ko, Bakong and Lolei.
At the end of the day, as I walked down the hill from Lolei to our tuk-tuk, I was accosted by the town crazy lady, who proceeded to grab my arm (I gently released it from her grasp) and pick up our water bottles (I gently released them from her grasp).
We settled in for the long ride back to Siem Reap, but our eventful day was not yet over. On the way home, it finally happened: the tuk-tuk ran out of gas.
You might think that a stranded tuk on a dusty street well out of town would be a problem, but it's not. People all along the route sell petrol in old soda bottles. Fickry said that you avoid taxes when you buy from the roadside, but you also take a chance on quality. In this case, roadside petrol was just a few meters down the street, and we were on our way once again.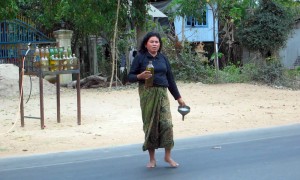 Overall, Karen and I spent three days driving from temple to temple, and I went back two other days by bicycle. Yes, there are throngs of tourists, clouds of dust, and occasional tuk-tuk troubles, but it was worth it to see these amazing places up close.