It's been six months since a couple of young, wide-eyed kids hopped on a plane to Tokyo. Now those same travelers are hardened, world-weary shadows of their former selves. Well, actually, it's not that bad (it just seems that way when you're standing on the side of the road trying to flag down a bus, and you do, and it takes you to the wrong place and charges you full price- that happened today).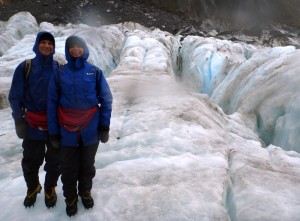 Karen and I were hoping that Next Stop: World would be a cascade of challenging new experiences… and boy is it: we've hiked a glacier, swum with sea turtles, eaten frog porridge, scrubbed an elephant, and partied with a Cambodian family. We've done some less fun stuff, too: checked into a Malaysian hospital, spent 12 hours on 7-hour bus ride, wondered if we'd have a hotel room thanks to Peter Jackson, and carried those damn backpacks what must amount to miles by now.
Cutting a couple countries from our itinerary took some of the heat off, but being on the road every single day is still wearing us down. Karen suggested a drastic change in plans. While I resisted at first, I must admit to feeling a sense of relief once we decided to do it: take a break back home.
Our new plan is to visit China in May with our good friends Chris and Angie, and then head home to Wisconsin for a couple months starting in mid-June. We're looking forward to seeing family, reconnecting with friends, and planning the next leg of Next Stop: World without having to worry about booking a hotel for next Tuesday (although we will need to figure out where we're going to stay in Milwaukee). We don't want to shortchange our experiences in Europe and Northern Africa because we were too tired to read the guidebook. Our Milwaukee friends will notice that we're coming home during the best weather months (that's no accident), and we hope to get together with you to drink a beer and/or see a band at Summerfest and/or eat a creme puff.
But don't look for us at La Fuente just yet! Once we're finished in Thailand (our blog posts are a few weeks behind- we're in Thailand now), we're off to India and Nepal before meeting Angie and Chris in Hong Kong. There's a lot to experience before we experience a hug from my nephew Nelson.
We'll see if he still has the super-hugging-strength to wrestle me to the ground, like he did when we said goodbye six months ago.