We weren't even planning to go to Chiang Mai. Our plan was to bus south from Bangkok, making our way towards Phuket, which would involve stitching together a few long bus rides. I couldn't take the thought of such transportation hassles, so just days before our departure, we completely changed our plans and booked flights to Chiang Mai. It was a perfect change, as Chiang Mai was filled with social opportunities… something we sorely needed.
Located in Northern Thailand, everything is a little different here. Cooler temps, relaxed people, a slower vibe, mountains, history, different food, and a wat everywhere you look. A nice city to walk or rent bikes and explore. And a great place to connect with some locals.
We explored a bit on our own, visiting more wats than you can wave an incense stick at. Needing some color, we hit the Royal Flora Horticultural Expo, a mini-Disneyland for all things plants. Ken's mother is a master gardener, so we sent her a birthday message from the show. Here, you can evesdrop:
[youtube_sc url="http://www.youtube.com/watch?v=k766R_sjSzM"]
And few visits to this city would be complete without some massage. A foot massage for me and a full Thai massage for Ken.
Our never-ending quest to meet locals was fulfilled in Thailand thanks to our friends, the Mortonsons. They connected us to their relative, Arob, a native Thai who also lived in the US for a long time. What we thought would be a simple meal turned into a delicious dinner party where 6 of us dined on amazing central-Thai dishes. Besides Arob and her assistant Maew, we were joined by the founders of the Thailand Massage School of Chiang Mai, one of best in the country (make that the world, they corrected us). The ladies were impressed that we tried everything, including spicy dishes and even nam prihk, a dip with fermented fish. It was such a lovely evening, exchanging about our lives and having many good laughs.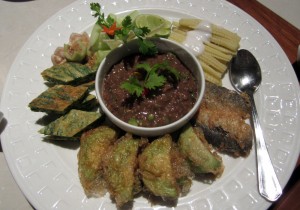 We made another local connection the next day, when we met Kevin, our host via CouchSurfing. Originally from Auckland, New Zealand, Kevin now calls Chiang Mai home. Along with his friend Brent, we enjoyed several tasty meals, including a CouchSurfing meet-up at the new Turkish restaurant in the city.
Staying with Kevin was an extra treat as he is a professional photographer and video producer, so he and Ken could talk shop.
We got to hear about his various projects, some of which take him to remote and beautiful areas of Thailand. Kevin, who is new to the CS community, is having fun taking snapshots of his surfers… including us. Check out what he calls the Surf Board.
One hazy morning (it's the dry season and the farmers are burning their fields- a bad combination), Ken and I rented bikes and rode to the forest temple of Wat U Mong.
On the way, we got a bit lost and stumbled upon this treasure, the 31st Century Museum of Contemporary Spirit. It's a privately-owned museum that hosts creative workshops throughout the year. While simple and small, the museum is very thought-provoking. There is even a meditation room, where Ken and I gave a try. At the museum, we met the volunteer staff of Non and Tim, who shared tea and conversation. Be sure to check out their videos out on Facebook.
And just when we thought we thought the hospitality had peaked, more was offered to our stomachs. Arob took us out for lunch so we could taste Northern Thai or Lanna cuisine. Oh, was it good. Be sure to go to for sticky rice, fried chicken, papaya salad, eggplants, soups and curries.
I was beginning to feel guilty that we wouldn't finish the ten dishes in front of us when Arob said we needed to try a dessert, "just for taste." Similar to the Malaysian cendol, this dessert was made of ice, coconut milk, red beans and black gelatin cubes. I told her I didn't think we could finish it, and she said, "That's okay, because I'm taking you out for real Lanna dessert." More? Even a foodie like me was getting worried. We stopped on a street corner to enjoy some coconut ice cream, and she bought some nibbles we could eat later from a bakery. I think Thai and Italian grandmothers have something in common.
Our Chiang Mai excursion came at a perfect time. We were missing social time and a feeling of home. Nothing says home more than a comfy place to stay and a grandmotherly figure wanting you to eat more, more. Many thanks to our new friends!