Dear Diary,
While Ken explores Mumbai on his own, it's time for me to WWOOF (that's Willing Workers On Organic Farms) again. Months ago, when we volunteered in New Zealand, we met a wonderful family and learned about farming, earthship home construction, and penny farthings. Here in India, I'm signed up to work for 10 days at a farm outside Jaipur, in exchange for housing, meals and some interesting Indian cultural exchange. Constant drought plagues this region in the desert state of Rajasthan, yet Indians farm here.
DAY ONE
After one night in Mumbai, I fly to Jaipur. Through the farm owner, I have arranged a driver, Mr. Ali, to pick me up and take me to the farm, about 25 kilometers outside of Jaipur. There it is, a sign saying "Karen Gill", yet I am greeted by Hameed, Mr. Ali's helper. Feeling nervous about this "stranger", I quickly warm up to Hameed as we talk and talk during the hourlong drive.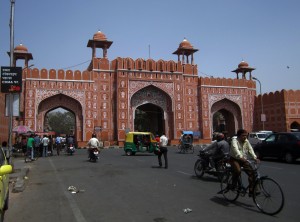 Since the airport and farm are on opposite sides of the city, we drive though the whole of Jaipur, a bustling city, filled with Raja-era forts and palaces. Labeled the Pink City, Jaipur is much smaller and slightly cleaner than Mumbai.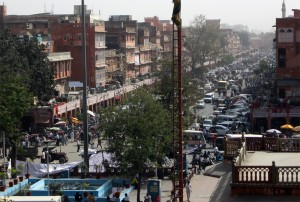 Hameed is happy that I am talking, because he tells me most passengers don't interact with him. He thinks I am funny and is shocked to learn that I am 42 years old. Hameed assumed I was much younger, as most of the WWOOFing volunteers are.
We arrive at the farm around 11:30 am. No one is around to greet me, except other WWOOFers. Eventually a farmer and the cook come around, yet they have no information about my arrival, which was confirmed by email a few days prior. Turns out the owner and farm manager are away on holiday and forgot to tell the others about me coming. Between staff and volunteers, intentions are understood and I am shown to my room. The staff here speaks very little English. One volunteer speaks a wee bit of Hindi. I have been in India for less than 24 hours and am still in culture shock. I wonder already, "What am I doing here?"
We volunteers are told to go to lunch. Walking to a large, empty farmhouse, we find a table outside, sit and wait. There are 3 of us who are new to the farm today, so we innocently ask the other 3 volunteers about their experiences on the farm. The American man tells us that it sucks. The French woman shares a few concerns. The German man is silent. There is talk that this farm is not what the WWOOF site says it is. Despite the promises of a cooling pool, working camels, and happy, singing and dancing workers, the WWOOFers have found a septic, unswimmable pool, no farm animals, and crabby workers.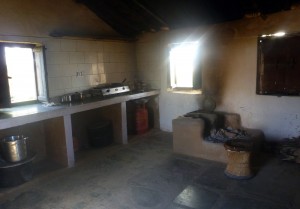 Suirez, the cook, tells us to go into the kitchen and serve ourselves. We must take off our shoes to enter the kitchen, yet the floor is filthy with cooking debris. This Southeast Asian standard of taking off your shoes still baffles me. We lunch on wheat chapatis, rice, dal soup, and a potato and tomato stew. All cold. I wash the dishes yet am warned by the WWOOFers not to do too much. The cook is paid to cook and clean and if we offer to help him, he'll make us do everything, they warn.
The WWOOFing complex is a 6-room kitchen and bath building surrounding a courtyard. My room, with its dirt floor and thatched roof, is exceptionally good at staying cool in the ever-increasing heat of the day. All I have to do is clean up the garbage and dust left by the previous volunteer. Learn that there is no wi-fi connection or computer on the farm. Keeping in contact with Ken will be difficult, as the nearest computer is about 6 kms away.
After a short nap, I go to my first job, cleaning out the woodshed. This includes removing old wood, sweeping the shed clean, and putting new wood inside. It feels good to move and do some serious physical work. My ankle, which has been sore for months, argues a little, yet it should be okay.
My first impressions are that it is cooler here and feels great. While the temperature still hovers around 95 degrees Fahrenheit, the air is very dry and feels refreshing in the shade. The farm has a sweet dog named Kali. No one owns her, so she spends a lot of time with the WWOOFers who feed and pet her.
After work, we volunteers get ready for dinner. No one knows when dinner is supposed to be served. The WWOOFers just show up around dark and eventually get fed. Peeking into the kitchen, I ask Suirez if I can help. I sift the stone-ground wheat flour and knead the dough for chapatis. From the looks of things, dinner would have been another hour off without my help. Eventually we eat a hot meal.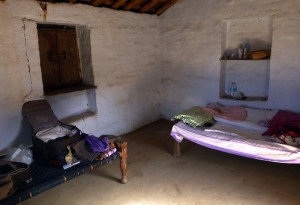 I share my room with a gecko, a spider and two cockroaches. The electricity is on from 7 to 11pm only. By 8:30pm, I am in bed… a bed that is too short for my legs.
Daily schedule on the farm for WWOOFers, subject to constant change:
8 am – Breakfast
9 am to Noon – Work
Noon – Lunch
2 to 5 pm – Work
Maybe 7 pm – Dinner
DAY TWO
Lel, the farm manager we were told was on holiday, showed up this morning. He has a slightly creepy demeanor and is short spoken, without any pleasantries. He comes to the farm to make me and the other newly arrived volunteers "official" to the Indian government. Turns out the government tracks every tourist through a one page form. Every person provides passport and destination information at every hotel they check into in India. Lel takes our passports and 150 rupees each "for processing". I later learn that these forms are bureaucratic BS, and the papers rot in government offices all over the sub-continent.
Lel tells me there was a message from Ken. I panic a little, wondering what is up. Handing me a piece of paper, he says it is not an emergency and that I can reach Ken at this phone number.
The group starts eating breakfast of salty porridge and masala tea. I notice that the French girl has a phone and ask her if I could make a call. Turns out Ken picked up a cell phone in Mumbai for only US$20. I call him (he's walking through a museum) and discreetly tell him what has happened so far. His plan is to fly to Jaipur on my day off, so we can tour the city together. Thankfully, we have a way to communicate, as long as I can borrow someone else's phone.
Go to work in the fields. There I meet Ratan, a farmer who speaks some English and is pretty funny. At least happy, unlike the other people I am meeting. Things are looking up. A few of us work on weeding the amla fruit trees, using an Indian style hoe. It's super hard work, bending low to get under the tree branches, extracting weeds from the bone-dry soil.
Not using the hoe correctly, I smack both my ankles. Small marks appear and start to swell. Thank goodness I have a large stock of ibuprofen and Voltaren anti-inflammatory gel (left over from Ken's Malaysian medical adventures) with me.
A few hours into working, we are called to sit in on a meeting. A group of farmers have come from Dehli for a two-day conference about organic farming. Saharia Farm, where I am working, is one of the leaders in the area on organic practices. Without warning, I am asked to tell the group about organic farming in the US. Their leader translates my words to the group. Not being an organic farmer and knowing nothing about nitrogen levels in organic matter, I talk mostly about the growing CSA (Community Supported Agriculture) movement in the US. The farmers murmur back and forth to each other, and I wonder what they think. Since we can not understand their lecture given in Hindi, we volunteers go back to weeding.
Eat lunch quickly and go to get a bike. The WWOOFing write-up for Saharia mentions that bikes are available for volunteers to use. The farm only offers basic food, and one of the volunteers told me there are food and fruit stands about 5 kilometers away. It takes me an hour to find a bike. That's how things work here, lots of looking, asking and waiting. Finally, I am given a very rickety, Indian style bike. I slowly work my way to the road, because if I peddle too fast, I'll fall over.
Upon getting to the road I sadly discover that most of the shops are closed. No eggs, no fruit, no cold soda. I buy cauliflower and soap. (The farm supplies no soap or toilet paper!) As I peddle back to the farm, a boy, about 12 years old, runs alongside. Then, to my surprise, he hops onto the rack on the back of my bike. He asks where I am from. I mention Saharia and he quickly hops off. Soon after, I find two very scared puppies, hiding in a shrub. Why? Next to them is their dead brother, with no mother around. So sad. I return to the farm to weed some more.
After work, we WWOOFers take turns having our cold showers. The conference farmers are still there, watching the sunset. Joining them for some chai, we get the Indian stare from most of them. However, a few of the farmers speak English and we talk a little with them. One says he could not understand my accent or a word I say. Wonder if I should adopt a British accent? I turn my attention from him to the birds in the trees and see an owl.
Dinner, with my purchased cauliflower. Yuck. The food here is quite bad and unsatisfying. It all tastes the same: gritty and overly spicy. Chapati is starting to get very dull. I blame the bad food on the crabby cook, Suirez. There is no love or joy in his food. Watching him eat is like watching a hot dog eating contest, all shove and no enjoyment. Suirez has some grudge; against whom, no one knows. All the Indian workers on this farm were brought in from the state of Assam. Their extended families live over two days' transportation away. Most get home once or twice a year. Perhaps Suirez is missing his wife and four kids? Here lies the struggle for many of India's rural people. Work far away from home just to make some money.
DAY THREE
Wake up with my ankle swollen and stiff. I ask Ratan for a job with less standing, one where I could use my hands. Why, weeding, of course! I am given a hand tool that looks like a spackle scraper. At least I can sit while working. It is nice to work alone. Pausing often, I look skyward and see many beautiful birds. All is going well, until I discover a blister that opened wide on my palm. It is like a stigmata. Should I take this as a sign? Is this my persecution?
Lunch is the same meal as dinner the night before. Sigh. The two very young Americans go out to find snacks. They bring back some Parle-G cookies and popsicles. Yeah!
At 2:30 pm, I put myself back to work weeding. Some of the other workers sleep, waiting for the farmer to wake them. It's too bad they are not self-sufficient. This starts a cycle of the WWOOFers thinking they don't need to work unless asked and the Indian farmers thinking that WWOOFers are lazy.
Talk with Lel, the farm manager. He is going away for a few days, as he is to be on holiday. Turns out he is supposed to be off for a few weeks time, his first major break in years. His own farm is about 25 km from Saharia, where his extended family tend to mostly cauliflower and animals. He is married with two young kids. Managing Saharia appears to be a burden on him. I am sure the money he earns keeps him around. Lel asks me to buy sunglasses for Suirez, the crabby cook, when I go to Jaipur on my day off. I ask him about getting fruit and more vegetables at meals. We both wobble our heads in non-commitment.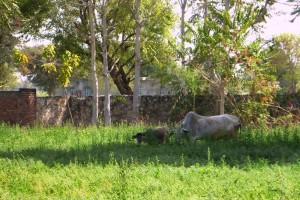 From Lel I learn that a liter of cow milk sells for 35 rupees and buffalo milk, with higher fat content, sells for 40 rupees. 35 rupees equals 68 US cents. The farm turns out to have two animals, a milking cow and her calf. The milk is just enough for the 4 farmers, their families and the WWOOFers to have masala tea everyday. There is not enough to make paneer or curd on the farm.
Meals, including tonight's dinner, turn into bitch-fests. Everyone has their opinions about the farm; the lack of organization, the cranky people, the poor food. We are supposed to work a minimum of 10 days, with one day off on day 7. There is talk of people leaving early. (Really, a 10-day minimum is extreme by WWOOFing standards. 5 to 6 days is more the norm.)
Not all is bad. The best part about Saharia? The quiet and the birds. There are so many birds, and they are amazing for me to watch. They love the fruit-bearing trees on the farm. Thanks to the dry season and most trees being barren, it is easier for me to see the birds. They love when we weed and dig up the ground because they are offered a bug buffet!
I have seen:
Rose Ringed Parakeet
Black Drongo
Greater Coucal
Common Babbler (yes, these birds are noisy)
Spotted Owlet
Black-Rumped Flameback Woodpecker
Green Bee Eater
White Throated Kingfisher
Common Hoopoe
Common Myn
Hoopoe
I wonder if the birds are enough to keep me happy.