Reunited after a week of mental and physical struggle, Karen and I explored Jaipur, the Pink City. Which, by the way, we find to be more of an orangeish coral city- perhaps they've changed paint vendors since the first coat in 1876?
Our tour guide and confidante Mr. Ali whisked us from place to place in the Indian Ferrari. We began with the Gaitore Cenotaphs, cremation sites of the Maharajas of Jaipur beginning in 1733.
[youtube_sc url="http://youtu.be/f3KFXH6NDnI"]
If the cenotaphs were, well, as quiet as a tomb (except for that one drunk guy who hassled us before passing out), not so the rest of  Jaipur. Our face masks went back on as dust and exhaust swirled around us. The Amber Fort was nice, though we didn't pay to enter the main building. Nahargarh Fort offered sweeping views of the urban sprawl (I had no idea Jaipur was so big: 3.1 million people). While the exhibits in the Albert Hall Museum look like they haven't been touched since it opened in 1887, the historic musical instruments caught my eye. Hawa Mahal's ornate stonework was impressive, as was its view of the Old City.
But my favorite stop by far was Jantar Mantar, a name as quirky and fun as what's inside. A sprawling complex plopped right in the middle of the city, Jantar Mantar is a collection of astronomical instruments built in the 1700s by the Maharaja Jai Singh II. From here, you can tell time, predict eclipses, and track the earth's orbit. I was just enthralled by the crazy architecture.
The colorful saris that Indian women wear provide such a splash of color against the Rajastani dust- Karen just had to have one for herself. Her final choice will be revealed at the Taj Mahal… of course!
It was great having Mr. Ali on our team (Karen called him our "babysitter").
Over the course of three days, his presence insulated us from the constant "Mister, you need a rickshaw?" banter. We could go wherever we wanted, whenever we wanted. If we needed some food, he had suggestions, like the traditional Indian meal of thali.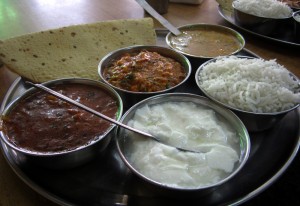 He advised a stop at the local lassi joint, which didn't take much convincing, since I love the yogurt-based concoction.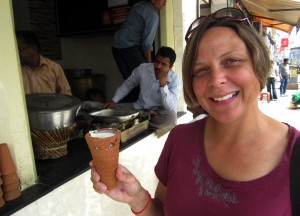 You drink your lassi from a piece of pottery… and then toss it. One use. I guess it's a more recyclable material than plastic.
Lest I paint too rosy and care-free a picture of our Pink City exploits, let me hit you with a dose of Indian reality: by the second evening, I was sick with a stomach bug. I spent a night hovering over the toilet dry heaving, yet never managed to expel anything.
Was it the lassi? The thali? The street food? Who knows. With Mr. Ali's help, we relocated to a much nicer hotel, where my Cipro-fueled convalescence could proceed apace, and I felt better… right about the time we left Jaipur.