Traveling independently takes work. Booking hotels, researching future destinations, and even deciding where to eat three times a day can wear you down. Knowing that India presents extra challenges, we have taken the plunge and signed up for a guided tour. Sure, we have done short excursions, like diving the Great Barrier Reef in Australia and touring the caves of Gulung Mulu in Borneo. This time around, we're putting ourselves in someone else's hands for a full 15 days, and we want all of our needs taken care of. No more Internet searches for where to stay. Ta-ta to tuk-tuk drivers and all their hassles. We are ready to be told what time to meet and where to eat.
We signed up for Intrepid Tours' Delhi to Kathmandu trip. Moving quicker than we normally would, it covers many north Indian highlights, a border crossing, and wild animals in Nepal. Our itinerary takes us from New Delhi to Agra, Orchha, the Ganges River, Varanasi, Lumbini, Chitwan and Kathmandu. India seems like the perfect country to let someone else handle all the logistics.
With Ken struggling to get a taxi in Mumbai and Karen befuddled by booking a train ticket online, it's time to don the tourist lanyard and follow the guide holding an umbrella in the air. Okay, we don't think Intrepid is quite like that. However, we are so looking forward to shutting off our brains and going with the flow.
On day one, we met our fellow travelers at the hotel in Delhi. Our group of 12 hails from the UK, Germany, New Zealand, and India, with us being the only Americans. Our guide, Navin (an Indian with Nepali roots), explained the logistics, and then we were off… via a scruffy local bus.
Navin said we had to ride one at least once, and we agree. As long as he pays the fare and tells us where to get off.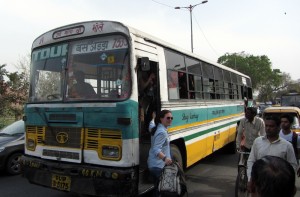 We visited the largest mosque in India, Jama Masjid, where the women had to cover up in ridiculously patterned robes.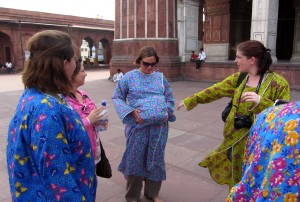 Then we visited a Sikh temple and learned more about this religion. They believe in a communal approach to helping their worshipers and the community at large. Through a massive volunteer system at their complex, anyone can sleep and eat for free. We enjoyed afternoon tea.
Navin led us on a walking tour through the crowded, noisy, dusty streets of Delhi (you didn't think our Delhi dreamland would last forever, did you?).
Sidewalk stalls sold everything from fireworks to spices. The spices were particularly… sensory.
[youtube_sc url="http://youtu.be/Zg66ZAttSFw"]
For a moment, we found ourselves walking behind some of Delhi's younger workers, the "scruffy bottle collectors" Ken mentioned in his Mumbai slum post.
[youtube_sc url="http://www.youtube.com/watch?v=8mUH3L6gMeg"]
At the end of the day, Navin mercifully whisked us home on the Delhi metro. What will we do tomorrow? Whatever we're told. Ahhh…