And we have a winner! The scientifically-verified <sic> Most Popular Song Ever In The History Of The Universe is "Hotel California", released by the Eagles in February 1977. Dee Braaksma is the lucky recipient of 135 Nepali Rupees!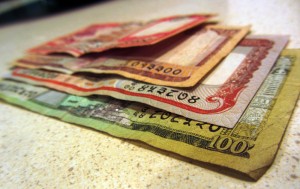 OK, I'll admit it, Travelex wouldn't buy back small bills… but hey, they sure are colorful.
As we heard "Hotel California" over and over and over, I wondered… why? I mean, sure, it's a big hit: it reached #1 on the pop charts (on my 7th birthday, 5/7/77), and Rolling Stone Magazine ranked it the 49th greatest song of all time. The Eagles' greatest hits album is one of the biggest-selling albums ever. But our readers' guesses of "Dancing Queen" or "Hound Dog" seem just as likely to repeated ad nauseam.
Maybe the song's ubiquity is the rest of world's sly commentary on our home country. Co-writer Don Henley said that "it's basically a song about the dark underbelly of the American dream and about excess in America, which is something we knew a lot about." Glenn Frey commented, "That was a dark, strange period of my life."
Or maybe it's simply a catchy ditty with vague lyrics and a hummable refrain. Let's close with just a few of the 487 times we heard "Hotel California." Thanks for playing, everyone!
[youtube_sc url="http://www.youtube.com/watch?v=T1aQ8RzmgcU"]