Ken calls me the Dog Whisperer Light. I am drawn to many dogs I see on the streets in Nepal, and some make a beeline right to me. They know I'm a sucker for some dog love. As long as they're not too mangy and I have hand sanitizer in my purse, they'll get some petting from me.
It was the beginning of our two-week stay in Pokhara, a city where we planned to rest and catch up. So it was important for us to find a place to stay that was comfortable. We wandered from boring hotel to boring hotel, rejecting everything we saw and getting deeper into a residential area.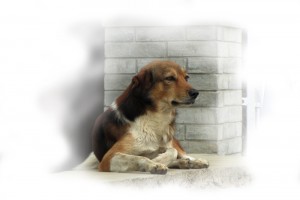 He seemed to appear out of nowhere: a beautiful brown and white dog sitting on top of a stone wall. He was very clean and civilized compared to most street dogs. His eyes said, go ahead, pet me.
As we enjoyed his soft coat and friendly demeanor, a woman dressed in a sari approached us from behind the stone wall. Very quietly she asked us, "Are you looking for room?" Ken replied half-heatedly, "Yeah, maybe, what do you have?" She said, "Oh, a small villa… like an apartment… with a kitchen." Kitchen? That was the one word I needed to hear! After inspection of the room, we said yes, we would like to stay here. And we did, for 13 days. And I cooked.
[youtube_sc url="http://youtu.be/L3IJ3muanIU"]
Villa Papillon is a small guesthouse run by Bishna and Niru, who live on the first floor with their son and Bishnu's mother. Their property, in the family for decades, includes the original farmhouse and barn, the newer house where the family lives, 4 guest rooms, and a sizable organic garden of corn, fruit trees, and medicinal herbs.
Turns out the ghost dog beckoning to us from the stone fence was Rambo, the family pet. A typical farm dog, he keeps the yard clear of rodents and works as a guard, patrolling his fence and the road outside the home. Whenever I wanted to pet him, he was ready.
The guesthouse was a great location to relax and get to know a little more about Nepali life. Twice we enjoyed dal bhat dinners with the family and learned more about their way of life, Nepali politics, and how kids are educated.
While life isn't always easy (with daily power outages, political unrest, strikes, and torn-up streets), this family lives with grace and finesse. Nothing seemed to slow them down. Choosing not to own a car or motorbike, they walk to the markets for their needs. They make a good wage renting out rooms at a very reasonable price. Their two cows and lush gardens provide food for them to eat and sell and give them their joy for living. It was peaceful to be around their calm energy.
If it had not been for Rambo, we would surely have walked past this delightful guesthouse. Thanks for pulling us in, ghost dog.