Nepal's spectacular mountains cannot be ignored. Just about everyone winds up trekking (hiking) around, over, across, or along them.
Hanging in Pokhara- the gateway to the Annapurna mountain range- for two weeks, we figured we should hike somewhere. Not wanting to hike the traditional two-week long routes and unwilling to join a guided tour, we decided to go our own way. We would invent our own trek.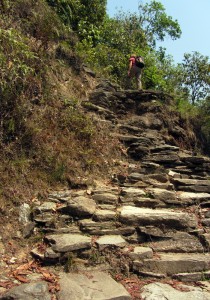 We started with a 600 Rupee cab ride to Phedi, about 40 minutes away. From there, we began a two-hour climb up, up, up to the lovely village of Dhampus. While clouds socked in most of the mountains, we caught a glimpse here and there. We wandered around town, hoping to find a through path to the next village. After consulting with some locals, we realized that our only option was to head back down the same path we had traveled and catch another path at the road. Sigh.
As we trekked down, down, down, the grey clouds rolled in.
[youtube_sc url="http://www.youtube.com/watch?v=4tnG3OHuLMk"]
Back in Phedi, we stopped at a tea stand and enjoyed some of the best spiced masala tea we've ever had. The very friendly tea maker pointed out the local hiking route up to Naudanda, where we spent the night. At the guesthouse, we dined with a group of four Chinese tourists. We enjoyed talking about travel and life in China (our next destination), and we even got a lesson on how to count to ten in Mandarin.
As we described our travels, one of our new friends furrowed his brow and said, "I don't think you are typical Americans." What makes you say that? "You're not religious and you are interested in how the locals live. We have a joke in China that American tourists want every place to be just like America." Yup, we've encountered people like that- no joke. Ken responded that he thought they were not typical Chinese. Our stereotype of the pushy, loud-talking, messy-eating Chinese tourist was shattered by these thoughtful, good-humored travelers.
The next morning we all woke early to view the snow-covered mountains at sunrise. After breakfast, the six of us hiked a dirt path over a mountain pass to Sarangkot. Along the way we talked with some locals, including kids heading off to school.
Arriving in Sarangkot around lunchtime, we had another meal with our Chinese friends and then bid them farewell, as they had an appointment to go paragliding. Debating on doing it myself, I decided that it was just as fun watching others do it and saved myself $70 dollars.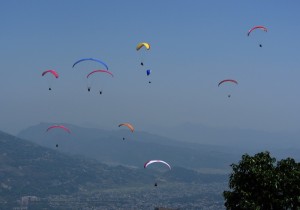 Then we checked into a hotel room. A really cheap hotel room.
[youtube_sc url="http://www.youtube.com/watch?v=gwXhRS-fcPY"]
Day three. We woke early again and were rewarded with fantastic views of many of the peaks in the Annapurna range, including Macchapucchre, the most sacred mountain to the Nepali people. After a short nap and breakfast, we set out toward Pokhara. We never did find the main path described in the guidebooks, so we wandered downward in the general direction of the city and, with the help of some locals, made our way home to Villa Papillon.
Maybe I shouldn't say that we went our own way. Better to say we went the local, Nepali way. It made for a pleasant three days.