Wisconsin State Fair. For this gal, it's a big deal. I love going every year I can and was excited when I knew our tour break in Milwaukee would allow me to attend this year's fair.
Why is it such big deal for me? The fair runs in the family. My mother's family, the Kings, lived on 84th Street right across from the pig barn, from the 1930s up until my uncle died in the late 1980s. When my mom and her siblings were young, they would hit the amusement park after hours (back then, a roller coaster ran all summer long), looking for change that had fallen out of riders' pockets.
As a teenager my mom helped sell lavender products at a booth inside the expo hall. Grandma parked cars on her lawn and even housed a carny or two in her spare bedrooms. All to make money to pay the property taxes each year.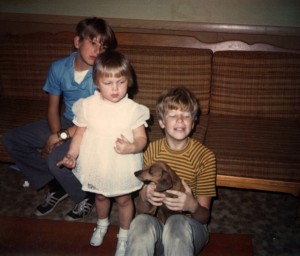 As a young one, I would sit on Grandma's porch looking east, where I could see the Giant Slide and the fireworks at night. When I was older, Mom and I would go together, eating our way through. Fair week was a special time for us all.
So every year I enjoy those memories by choosing one day to attend. This year, Ken and his mom, Peg, joined me on my usual routine. I like to get there early, when street parking is easy, crowds are thinner, and the temperature is a little cooler. And to fulfill my duty of having a cream puff for breakfast.
Yuck, you say? No one makes a better cream puff than the WI State Fair. In 2011, they even created the world's largest.
After a stroll around the expo center, horticultural space, and the central mall, it's usually time to see what other damaging food can be consumed. The three of us each chose an artery-clogging fried treat on a stick and shared them. Peg chose the tame-yet-tasty crab cakes.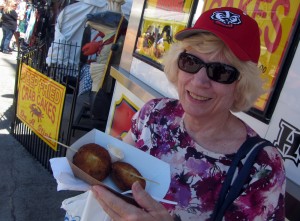 I went for the more adventurous fried reuben brat in rye batter with Thousand Island dressing.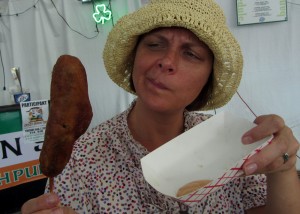 Ken picked the winner, fried peanut butter and jelly on a stick, coated in powdered sugar.
Whoa, whoa, and whoa.
After attempting to burn some calories and fat walking around the animal buildings, we took a seat to check out the fair parade. The usual police on horse and the wacky wheeler strode by.  Then a salute to the state's hard-working farmers came by in the form of an old tractor driven by Ken's brother Paul! I told you it was a family affair.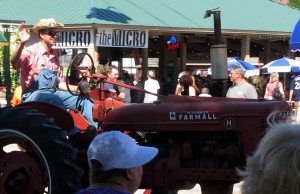 No visit to the fair is complete without a visit to my Mom's memorial paver.
My mom passed in 2005, and wanting to honor her love of the fair, I created this.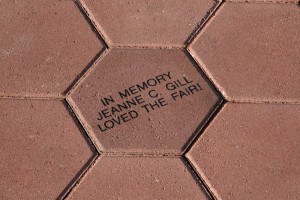 While Ken, his mom, and his brother left after the parade, I wasn't done yet. My friend Sarah joined me, and we enjoyed another State Fair tradition: the grilled (Wisconsin) cheese sandwich.
Heading home in a sugar and fat induced coma, I reflected on another satisfactory year. Thanks to the King family for creating a ritual that brings me joy.