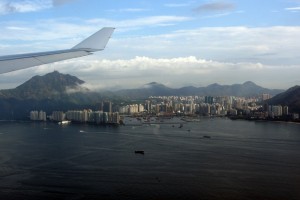 We have finally arrived in China… or have we?
The port island of Hong Kong has been the object of a Sino-European tug-of-war for centuries. The Chinese had it, the Brits took it from the Chinese, the Japanese took it from the Brits, the Brits took it back from the Japanese, the Chinese asked for it back from the Brits, and the Brits said, "You can have it back, but don't go all socialist on it." Finally, on the night of June 30, 1997, Prince Charles read a statement from the queen, there were some fireworks, and Hong Kong became part of the People's Republic of China.
The government agreed to allow Hong Kong to retain some of its freedoms, making it a Special Administrative Region under the "one country, two systems" approach.
Even if we hadn't read our history books, we would have wondered if this was really China. After landing at a sparkling new airport terminal, we extracted some Hong Kong dollars from an ATM and took a ride on the ultramodern metro system.
[youtube_sc url="http://www.youtube.com/watch?v=QAnN_UbFpKo"]
We set up shop at the oddly-named Bridal Tea House Hotel.
[youtube_sc url="http://youtu.be/tLnmjE75QxI"]
After two months in India and Nepal, bustling Hong Kong was overwhelming… and somewhat comforting.
Before the handover, there was a wave of people exiting Hong Kong (afraid that the PRC would crack down once it took control). After the handover, the tide is reversed: mainland Chinese come to Hong Kong to enjoy its freedoms… and its healthcare.
Some (Hong Kong) Chinese consider (mainland) Chinese locusts for mooching off the system.
Little by little, we began to realize that, yup, this is China. Fewer people here speak English than in India or Nepal, and we find ourselves adapting to a new culture once again.
[youtube_sc url="http://www.youtube.com/watch?v=e95iYL2sLGI"]