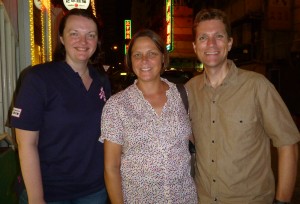 Want a whirlwind tour of Hong Kong? Look no further than our new friend, Amanda: expat Hong Konger and force of nature. She had at least enough energy to blow the four of us over.
Amanda is a former co-worker of Ken's sister Karla. We connected via Facebook and made plans to meet her in her now four-year long home, Hong Kong. She is a huge fan of food, fun, and Chinese culture, making her an excellent person to show us some highlights in her adopted city.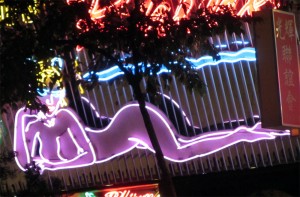 Angie, Chris, Ken, Amanda, and I met in the Wan Chai neighborhood of Hong Kong Island. A busy commercial and nightlife district popular with expats, it's a comfy place to chat over cocktails.
How about happy hour margaritas… about four each, yet who was counting after the first two? We learned about each other and about how Hong Kong is similar to many other major cities, like New York. Although Mexican is a favorite cuisine of ours, Amanda had other ideas: she led us to her favorite local dumpling restaurant. We dined on plate after delicious plate of Chinese food, desperately working on some sobriety. Ah, with Amanda as our guide that idea was quickly thrown out the window…
[youtube_sc url="http://youtu.be/ArluPf1labk"]
It took our last remaining shreds of energy for the four of us to stumble to the metro station… while Amanda continued enjoying the wee hours of the morning.
A few days later we agreed to meet Amanda again for a more subdued adventure: the art of eating dim sum. Dim sum is a small-plate dining adventure, best experienced with a group of friends or family.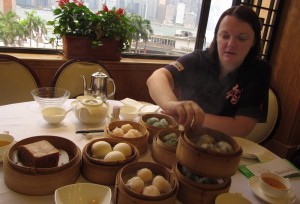 We friends circled around a table with beautiful views of Hong Kong's harbor, sipping dainty cups of tea. Amanda did all the ordering, and we waited in wonder for what would surprise us from this very popular form of eating in Hong Kong. Plate after plate and steamer basket after steamer basket arrived from a parade of servers.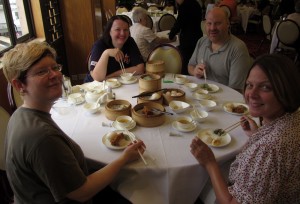 We couldn't get enough of steamed pumpkin bread, pork buns, sautéed bok choy, stuffed mushroom caps, spicy tofu cubes, and more steamed buns. Wow, we were entranced with all the tastiness in front of us. It's so sad that there isn't a true dim sum restaurant in Milwaukee. Sigh.
After that stomach-stuffing lunch, it was time to stretch our legs a bit. Deciding to head to Stanley, a cute beach town on Hong Kong Island, we boarded a ferry, then a bus.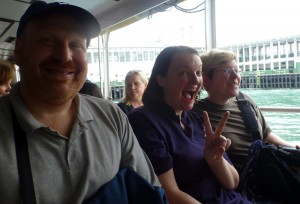 Amanda pointed out the sights of this tightly-packed city, with new towering buildings going up everywhere. Rents and mortgages here are some of the most expensive in the world. Thankfully, food and transportation are a bargain, so as tourists we didn't feel the pinch that most long-term residents do. Squeezed between the tightly-packed neighborhoods are stretches of green: parks, forests, hiking trails, beaches. It really is a beautiful place.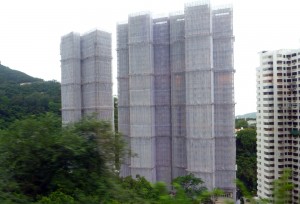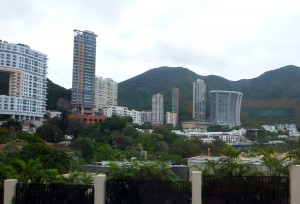 We wrapped up our time with Amanda at one more cocktail spot…where else?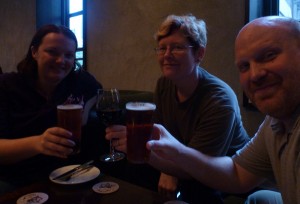 Enjoying inventive, smoking cocktails at the Pawn we reminisced about our time together, acting as if we were old friends. It's the generous, adventurous spirit of people like Amanda that make traveling so worthwhile. If you want a hurricane in Hong Kong, give Amanda a shout. Thanks, girl!