Karen and I have been tourist attractions for months, with locals snapping photos of us, presumably to go home and marvel at our freakishly pale skin.
Here's one of the best things about traveling with Chris and Angie: now, the locals can snap photos of them, while Karen and I slip into the shadows. After all, who wants a picture of a couple of worn out, vaguely grumpy-looking white people, when you could photograph a red-haired guy who looks like a lumberjack and a woman sporting a shock of blonde hair, both of whom are taller than most men in your country?!
[youtube_sc url="http://youtu.be/NONIIncDLTI"]
Sadly, my anonymity was short-lived. One morning, while exploring Shanghai on my own, I sat down on a bench to type some notes into my iPhone. Just then, a gaggle of Chinese tourists clamored by. Inevitably, one of them casually sat down while a friend tried to sneak a photo of me.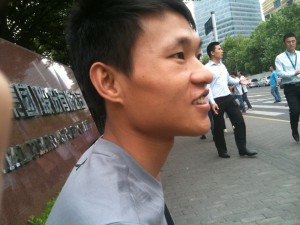 I wasn't feeling generous and turned my iPhone on him. Rather than embarrassment, this engendered amusement, and the circus was back in town.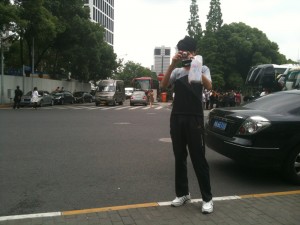 Next was an Indian tourist, and I couldn't help but add him to my "Just One Photo" collection.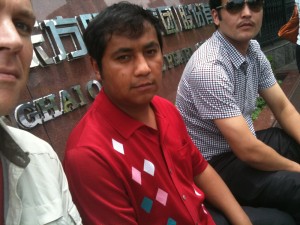 Seeking refuge from the limelight, I rejoined Chris and Angie. We wandered away from the crowded shopping areas, getting a little lost in the back streets. Rounding a corner, we suddenly saw something very different from the Shanghai we've seen so far.
[youtube_sc url="http://youtu.be/zKCgjFDggLA"]
Of course, the real China is soaring skyscrapers and ramshackle back alleys. While money flows and grows here, half of China's population still scratches together a living in rural communities.
We are tourists here, and we soon found ourselves back amid the glowing neon and chic shops of Nanjing Road. That's where we came to the realization that the dazzling show that is Shanghai isn't even being put on for us.
[youtube_sc url="http://youtu.be/0VVNAAWS2M8″]
Of course people snap photos of us: we're just one more tourist attraction in Chinaland.