"When you tire of Shànghǎi's incessant quest for modernity, this tiny town is only a hop, skip and metro ride away." Lonely Planet's write-up on Qibao had me mildly interested. Then they mentioned the daily shadow puppet shows, and I was in.
Puppetry has a long history in China, dating back thousands of years. Unlike the shadow puppets we saw in Cambodia, the figures here are made from translucent pieces of dried animal hide, allowing painted colors to show through the screen.
At the Shadow Puppet Museum, we crammed into a small room with some Chinese schoolkids and witnessed enactments of Chinese legends featuring magical princesses, men turning into skeletons, talking pigs, and um, all right, I'll admit it: I mostly didn't know what was going on. I do know there was some "Crouching Tiger, Hidden Dragon" style fighting.
[youtube_sc url="http://youtu.be/q50kLz5nr1w"]
The puppeteers were just as cramped as we were, jammed into a small room with the musicians.
[youtube_sc url="http://youtu.be/hT08jF6DxGw"]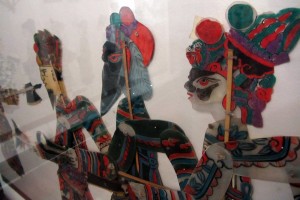 Qibao follows a model we've encounter several times in China: a small town with a high concentration of specialized museums.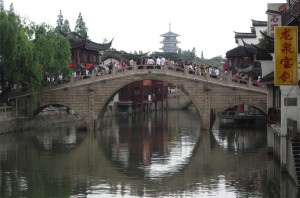 You can either buy one ticket for entry into all of them or buy individual tickets (the best choice if you quickly tire of museums).
We sampled a few museums, took in the historic architecture, munched on some street food, and generally enjoyed our incessant quest for… a relaxing day. With puppets.