Besides the time we spent violating the graves of dead Chinese emperors, our visit to Xi'an was mainly about taking it easy.
Chris and Angie rented bikes and took a spin along the top of the city wall.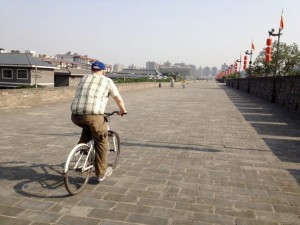 Meanwhile, Karen was still nursing her injury, which kept her in the hotel room more than she would like. She gave me a simple mission: buy her some ibuprofen at a pharmacy. This turned into a comedy of errors- in other words, it was a completely typical day on the road. I was able to acquire some Tylenol cold medicine, which would have to do for now. It's amazing how difficult it is on the road to obtain drugs that are common in medicine cabinets at home (try scoring some Dramamine overseas- good luck).
After my marathon pharmacy session, I was spent. And yet, if I hadn't gone there, I wouldn't have stumbled upon the employees of the King Restaurant.
[youtube_sc url="http://youtu.be/QEc7JwG_Rks"]
How could you be in anything but a good mood after witnessing that?
I remained in a warm glow back at the hostel, as we packed up for the overnight train journey to Pingyao. The four of us gathered in the lobby for a leisurely afternoon- we had hours before we needed to be at nearby Xi'an Station. Absentmindedly, I looked over our train tickets. Wait a minute… I warily consulted the guidebook… and my stomach dropped out. Our train was leaving from Xi'an South Station, which is nowhere near our hostel.
In other words, it was a completely typical day on the road. We hardly break a sweat over snafus like this anymore, and before long, we were in a taxi heading south. The only thing that really changed was our dinner menu.
[youtube_sc url="http://youtu.be/1EKpop6DYns"]
Happily, our train pulled up to the Train Station at the End of the Universe right on time.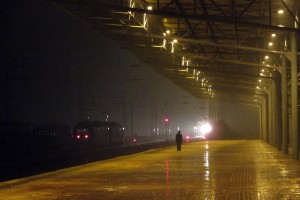 Soon, we were snug in our "beds," resting up for the next completely typical, completely surprising day on the road.