Enough of skyscrapers and metro stations! We wanted to visit a smaller city in China. Leafing through the guidebook, Chris suggested we head for the ancient, walled city of Pingyao, a UNESCO World Heritage Site that is considered to be the best walled city in China. It's an overnight train ride away from Xi'an, about halfway to our next destination, Beijing.
We enjoyed the intimacy of the walled-in city center, which has a small town feeling. Yet greater Pingyao still boasts a population of half a million people. Hey, that's small for China.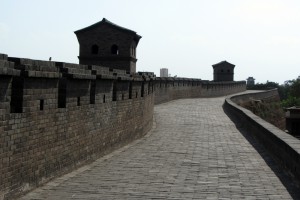 With its nearly intact wall, the ancient city retains most of the architecture from the Ming (1368-1644) and Qing (1644-1911) Dynasties. Dotted with temples, gardens and little museums, it's great place to wander the pedestrian-only streets. Mostly grey-colored buildings, built of stone or wood, sit low and unimposing. Some are ornately painted, covered in red lanterns. Once inside these buildings, many boast serene courtyards, perfect for resting, sipping tea, and contemplating a bygone era. Just like in Qibao, we could buy a multi-entry ticket to gain access to multiple museums. Places like the Temple of the City God, which creeped us out with its graphic depictions of Hell.
We walked a portion of the wall as well. About four stories high, it's a fun way to peer down into the life of the locals. The walls themselves are over 600 years old and parts are quite crumbly or even closed. Seventy-two watchtowers line the wall. Surprisingly, we were some of the only people walking the wall. Seems the Chinese tourists prefer to stay on ground level to shop and eat candies.
In a place like Pingyao, you never know when a cultural interaction is going to sneak up on you.
[youtube_sc url="http://youtu.be/8jnq24YIFTg"]
This is a popular tourist attraction, and most of the tourists are Chinese. Every day, tour groups with matching colored hats would follow their umbrella-toting guides into the walled city and right past our guesthouse.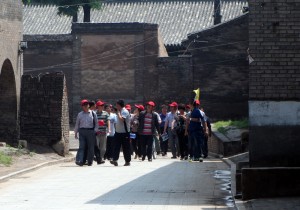 We enjoyed sitting on the stone ledge, sipping beer and watching the crowds pass by. They ooed and aahed at the interesting architecture and snapped photos of the Western tourists. We snapped their photo back and exchanged many nods and smiles of approval.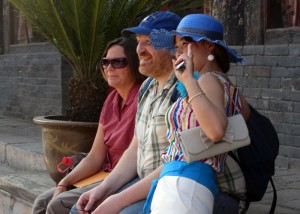 One brave group of women came over to us to ask questions, using what English they knew. Like most younger Chinese, they were quite fashionably dressed. "You look very nice," I commented. They giggled with delight that a Westerner would compliment them. I laughed inside, thinking that I looked like a slump in my worn and dusty hiking clothes. They moved on and we continued to enjoy the shenanigans of kids playing ball, dogs begging at food vendors, and people shooting us a hello.