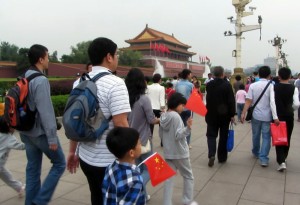 The Forbidden City is huge.
It is physically imposing; even the oversize portrait of Mao on the Gate of Heavenly Peace starts to seem understated after a while. It looms large in the tourism world, as we fight the throngs of mostly Chinese tourists to buy entrance tickets. It's a big deal for us, too, as we enter the final days of our trip. Karen is still nursing her injury from way back in Hong Kong, making her less interested in walking around a seven-million square foot complex. On the other end of the spectrum, I usually have my museum routes planned in advance… yet I have no idea what approach to take here. Chris and Angie probably have the best plan: just start wandering.
Entrance to the Forbidden City was actually, you know, forbidden for five-hundred years, since it was the residence of the emperor. Nowadays, this complex is also known as the Palace Museum; rightfully so, since every building is architecturally interesting, and many of them have full-blown museums inside. No wonder it took a million workers 15 years to build it.