For the next leg of Next Stop: World, we're taking the classic family summer vacation out west. Without the family. Or the summer.
At least we'll be cruising in style. Originally, we wanted to rent an RV, but the terrible gas mileage scared us off. As we considered whether to rent or buy a van instead, my parents made us an offer we couldn't refuse: letting us borrow their newly-purchased 2008 Chrysler Town & Country. That's right, they've only been driving it for a few weeks, and they handed the keys over to us.
In some places- like the Grand Canyon- we'd like to stay at a campsite, to be close to the action and save money. But who needs the hassle of setting up and taking down a tent each day? Don to the rescue!
Our friends Don and Marilyn travel to Burning Man each year, and this year's big innovation was that Don built a bed into the back of his van. Hey, whaddya know, it fits right into my parents' van. Thanks, Don.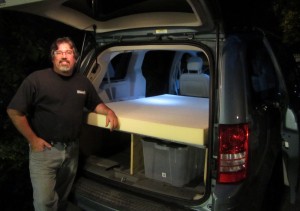 Finally, on the drizzly morning of September 22, 2012, we were packed and ready to hit the road once again.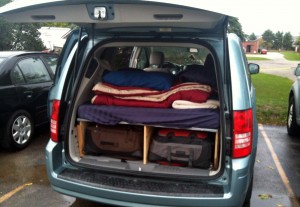 Day one: Milwaukee to Omaha. With nine hours of driving ahead of us, the iPod shuffled to this song. Coincidence? I think not.
[youtube_sc url="http://www.youtube.com/watch?v=MMR5JVo21wQ"]
Stopping off in Rock Island, Illinois, for lunch, we noticed a sign at the local Harley dealership: "Free Demo Rides." I got my motorcycle license over the summer, so I took a spin on a Sportster.
Back on four wheels, we cruised into Iowa, reliving my drives back to school (the University of Iowa). Yup, in Walcott they're still making that questionable claim about the "World's Largest Truckstop."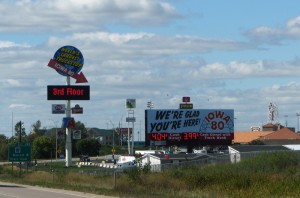 Iowa City has a lot more corporate chain stores than I remember, but the Old Capitol stills stands proud (despite the fire that destroyed the dome a while back).
Dinner at one of Karen's old Omaha haunts: Dundee Dell.
Day two: Omaha to Estes Park, Colorado. As we drove through the heart of farming country, all Karen dreamt about was a plate of authentic, artery-clogging biscuits and gravy.
She got her wish, though the dish wasn't quite up to her standards. She is bravely willing to try again (and again) until she finds someone who does it right.
After two days of driving and driving and driving, we arrived in Estes Park, Colorado, and discovered that, yes, there are hostels in the US. Not very good ones so far, but at least it had a kitchen so Karen could whip up dinner.
Estes Park is the gateway to Rocky Mountain National Park. Tomorrow, our grand tour of the Southwestern United States can truly begin!