We are CouchSurfing pros, having been members since 2007. What we had never done was join a CouchCrash. Albuquerque hosted their first ever on the same weekend as the Balloon Fiesta. It was time for our first crash.
A CouchCrash is hosted by the CS members in a specific city. They create extra activities for visiting CSers, a few days' worth of awesome hospitality. The First Ever Ever Ever Albuquerque CouchCrash was no exception, with lots of meal gatherings, hiking, biking, and of course, meeting at the Balloon Fiesta.
Another highlight was a trolley tour of the city, which took us past some local landmarks. We even became honorary University of New Mexico Lobos.
[youtube_sc url="http://youtu.be/UWF_-zptMMs"]
Through the crash we met our lovely hostess, Annie. Newer to CS and eager to get involved, she even gave up her own bed so we had a place to sleep. Good thing she is comfy in a sleeping bag on a Thermarest. She gave us lots of great tips about exploring ABQ and understanding the vibe of the residents, including the Breaking Bad vibe right on her block (a location used in the show).
Some mornings we were busy with our balloon crew duties, yet one bad weather day allowed us to attend the Free Hugs event, hosted by CS. Signs had been made by the group, along with Big Brothers/Big Sisters kids. In a number of languages, the signs encouraged balloon passersby to accept a free hug. And hug we all did. It was a hoot.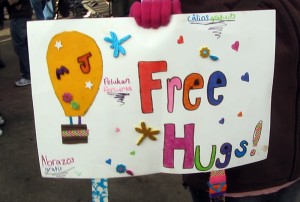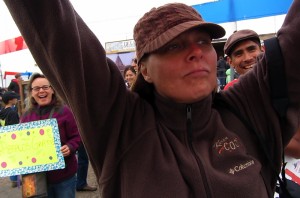 We cannot thank enough all the volunteers who worked really hard on putting this successful event together. Lisa, Antonio, Greg, Bob, Jeannie, and all the other ABQers, great work!