Cruising through Kanab, Utah, I saw a squad car on the side of the road and hit the brakes.
Upon closer inspection, the officer didn't seem to be very enthusiastic about his job. He just sat there.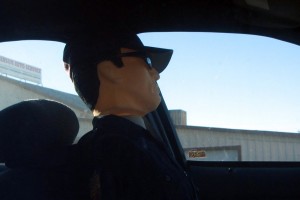 The next day, heading for Mt. Carmel, I spotted a Sheriff's Department SUV and hit the brakes.
Wait a minute… they wouldn't… would they?
Yes, they would.
Hmmm, the population of Kane County isn't very high. Let's hope that these two aren't the only officers on the police force!