During our international travels we tried to limit the number of plastic water bottles we purchased, since plastic is the least biodegradable material on offer and regularly ends up tossed into a pile at the edge of town.
Trying to go green on our Southwestern USA tour is a different story. Driving thousands of miles in a minivan isn't exactly eco-friendly, I'm afraid. Then again, how else can one efficiently traverse the vast expanse of the western states?
Staying at hotels that offer free breakfast is a treat, but at our first stop in Omaha, we recoiled in horror at the aftermath: a pile of styrofoam cups, plates, and bowls, plus plastic silverware and paper napkins. One use and into the trash. We have dishes with us for when we stay at campgrounds, so now we bring our own dishes, glasses, silverware, and napkins to hotel breakfasts.
You should see some of the looks we get, even at our oh-so-fancy hotel in Sedona (not fancy enough to offer real dishes at breakfast, though). A quick wash in the sink, and a bit less in the local landfill.
Back in our hotel room, we regularly put up the Do Not Disturb sign when we'll be staying multiple days (there's no need for towels and sheets we've only used once to be replaced). I've even started taking "navy showers," where you get wet, shut off the water while you suds up, then turn on the water to rinse off. I first heard that term in the Somewhere in the Arabian Sea episode of This American Life.
Having our own toiletries along, we don't break open those teensy-weensy, usually-thrown-away-when-half-empty shampoo bottles and such.
Happily, we won't be buying disposable water bottles on this trip. We have several refillable water bottles, which we can fill- amazingly, wonderfully- from the tap anywhere we go. We're not the only ones alarmed by plastic bottles: in 2011, the national park system decided to ban the sale of disposable water bottles at the Grand Canyon, which make up a startling 20% of the park's waste stream. The ban was suspended at the last minute, apparently when the mighty Coca-Cola corporation (national park donor and maker of Dasani bottled water) expressed "concerns" over the plan. Those concerns must have been addressed, because the Grand Canyon website now says:
There are new filling stations scattered throughout the park, making free spring water available to all visitors (stop at our lovely gift shop for your souvenir refillable bottle).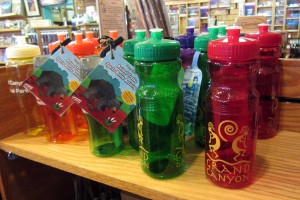 Recycling bins and dumpsters pop up throughout the park, with some accepting everything from paper to plastic to glass to metal.
Since our visits a couple decades ago, the Grand Canyon and Zion National Parks have taken steps to deal with traffic congestion and pollution by closing certain areas to motorized traffic and offering free shuttle service.
The shuttles make seeing key viewpoints a breeze (perfect for those looney visitors spending just a few hours in the park), while there are plenty of hikes and other drives for those of us sticking around for a few days. The Zion park shuttle runs every seven minutes, and there was even a free bus to whisk us from dinner at the Bit & Spur back to our hotel (both outside the park).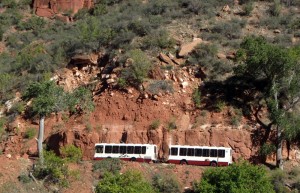 As we continue to do our small part by carrying dishes to breakfast, it's good to see the National Park Service taking more sweeping steps to protect the environment.