Bryce Canyon National Park is all about the hoodoos- those colorful, spiny towers of eroded rock.
Those (like us) hiking beyond the drive-up overlooks can earn a snazzy "I Hiked the Hoodoos" pin by photographing themselves at hoodoo checkpoints.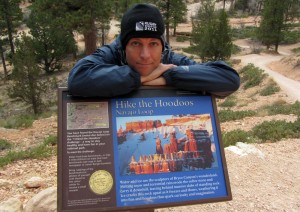 We hit the trails, and a few hours later, Mr. Ranger was handing over our pins with a flourish.
Jewelry aside, I wanted to see the hoodoos up close, especially with the sun finally burning off the morning chill. Karen and I set out on the Peek-A-Boo Trail, a five-mile loop through hoodoo hotspots. A mile in, Karen decided to turn back, so we made our safety arrangements (along the lines of "If I don't come back, tell them to come find me"), and I continued solo. The winding, rising and falling path gave me great views of a variety of hoodoos. And it wore me out. After an hour and a half, I had seen plenty of fine specimens… yet I knew I had another hour of hiking ahead of me.
The sun I had earlier been wishing for now had me peeling off layers of clothing. My last granola bar was gone, then my last drop of water. Of course the final mile of the trail was uphill. When I met up with Karen in the parking lot, I was done hoodooing. For now.