Many moons ago (in 1994, to be exact), Karen visited Arches National Park.
Her intriguing photo of Delicate Arch hung in the sunroom of our Milwaukee home for years, taking on a mystical air. I had to see this place for myself.
Contrary to my magical musings, our time in Moab was a bit disjointed. Our hotel wasn't very nice but we had prepaid and we tried to book a tour in Arches but it books up quickly so maybe we should go to Canyonlands first and then do Arches on a day when we could get the tour but we wanted to take a day off and go to the Pumpkin Chuckin festival and have some Mexican food but the restaurant didn't turn out to be that great and on and on and on.
Finally, we entered Arches, where we were greeted by a twisty road up a mountain. When I say twisty, I mean it: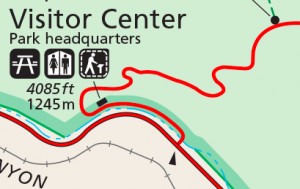 OK, are we finally there?! Can my mystical experience begin already?! We made a beeline for Delicate Arch, passing other sculpted formations and outcroppings- hey, wait a minute, pull over!
Balanced Rock, you look familiar. Have we met? Hmm, where were you in 1989? Right here? Then this must be where the opening shots of Indiana Jones and the Last Crusade were filmed. Seems Mr. Spielberg used the Three Gossips and Double Arch as well. Now we're getting somewhere (since movie locations are about as mystical as it gets for me).
Finally, we reached the end of the road and my chance to feast my eyes upon Delicate Arch. I guess I should have known that the well-worn trail would be crowded: this arch is famous. We see it all the time, since it's featured on Utah's license plates and the Welcome to Utah sign.
Getting up close to the arch requires some walking, which happily thins the crowds, allowing us to enjoy the view in relative peace.
After years of gazing at that photo, I was finally looking at the real thing (kind of like seeing a movie location, it occurs to me). Karen and I examined it from every angle, and I discovered what's just beyond the arch: a sheer drop into a valley. Kept my distance.
We walked back to the trailhead and still had enough time to hike the easy trail to Delicate Arch Viewpoint, so I left Karen resting in the van and hit another dusty trail. Viewing Delicate from the back (or is this the front?) was just as impressive.
Gazing at Mother Nature's work of art, I snapped many more photos. Now we just need to decide which one to hang in our house. And we'll need to get a house.