I remember my first trip to Disneyland clearly. On the big family vacation out west in 1985, we happened to arrive in Anaheim the evening before the 30th anniversary of the park's opening. So on our very first day at Disneyland, they threw a huge party. It was a happy day at the self-proclaimed Happiest Place on Earth.
I haven't been back since. The sprawling Disney and Universal parks in Orlando have so much more to offer (not to mention Fuji-Q, Cedar Point, and my hometown favorite, Kennywood).
Plenty has changed since 1985 and my host David has a yearlong pass, so it was time to revisit the magic.
Our first destination: the California incarnation of Muppet*Vision 3D. My first reaction: disappointment. At Florida's Disney World, the Muppets have a city block to themselves, with a fountain, hot air balloon, and gift shop encircling the theater. At Disneyland, the Muppet Theater is crammed into a back alley where everything else is closed during the day (Disneyland's red light district?).
Though the audience was small, we happily watched the 3D movie. Twice. This is the project Jim Henson was working on when he died in 1990, so seeing his last performance of Kermit is something of a pilgrimage for me. With the success of The Muppets, even I feel that the characters are due for a new attraction, yet I'll be sad when Muppet*Vision closes someday.
Onward, to attractions new and old! Frankenweenie, Cars, Space Mountain, the Haunted Mansion.
And the other reason I'm here: to experience the revamped Star Tours motion simulator. I managed to set aside my fanboy misgivings (characters from the prequels, overly-digital visual effects, etc.) and enjoy the ride. The scenes change randomly, so David and I started riding it once an hour to see as many variations as we could. Five journeys later, I can tell you that Hoth is the best planet to visit. In a nice coincidence, I was the spy on my first ride (those who have been on it will understand).
Every time we passed Sleeping Beauty's castle, I did a doubletake. It's so tiny! Compared to Disney World, everything here is a little more cramped and a little less grand. Then again, after a morning of Muppets and an afternoon of Star Wars, our Disney day turned out just fine.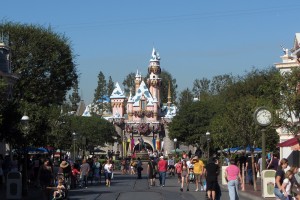 P.S. Ever wondered what the second-happiest place on earth is? It's Daviddibbleland, of course!