After a week in the Caribbean, it was time to head home. Our flight wasn't until the afternoon, so we squeezed in one more activity: kayaking through a mangrove on the eastern side of the island.
Although everyone else on the tour was Dutch, they all spoke English, so our guide offered his observations in our native tongue. After scraping through some tight passages, we hopped into the water and admired the colorful sponges and other fauna living on the tree roots.
Soon the mangroves were a memory, and I was cruising toward the resort where we'd rented the moped. I arrived just before the 1:00 deadline… and then realized I hadn't filled the tank as required. Zipping back to the main roundabout, I was surprised to find lines three vehicles deep at the pumps.
As the clock ticked toward 1:00, I waited in line, figured out how to prepay, filled up, and scooted away. Made it to the resort just in the nick of time.
Fuel cost me about US$8. I was in a hurry, so I didn't notice how many gallons or liters I pumped, but I do know that mopeds have small tanks. That was probably the cost of just over a gallon!
Day-to-day life must be fairly tough here. Everything has to be shipped in- except salt, there's plenty of salt. We've heard that some of the native (you know, non-Dutch) people resent Westerners enjoying rum punch at fancy resorts, while citizens born here struggle to get by.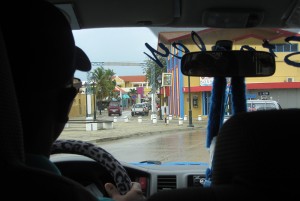 In the taxi back to Captain Don's, the (Bonaire-born) driver shared his thoughts about the island's 2010 vote to remain part of the Netherlands: he's all for it. Dutch control, he said, has brought a degree of order to what used to be a do-whatever-you-want environment. He mentioned that there are rules about how many stories high new developments can be, and limits on how much property one person can buy up.
In our week here, we've enjoyed the luxuries of Bonaire: scuba diving, snorkeling, relaxing in our bungalow, and taking a break from job-searching and decision-making back home.
With this trip, our travel fund is officially depleted, and we are officially moving on to the next phase of our lives. Now we just have to figure out what exactly that means!
Bye bye, Bonaire.