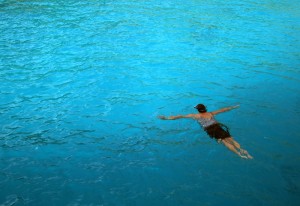 After becoming scuba certified in the Great Barrier Reef, I've been delving into the deep wherever possible, from Malaysia to Thailand to Bonaire. And Karen has been right there with me- that is, above me, snorkeling up on the surface.
Until now.
When we returned to Milwaukee, I didn't want my skills to get rusty, so I joined the Badger State Dive Club. At the monthly meetings, club members organize diving charters, share diving tips, and generally celebrate all things submerged. Around here we're talking about lake diving, so instead of seeking out a lionfish or manta ray, local divers are more likely exploring shipwrecks or discovering artifacts.
What, I wondered, do they do during the long Wisconsin winter? The hearty among them go ice diving. Yeah, they cut a hole in the ice and jump in (while following rigorous safety procedures). Meanwhile, the more warm-blooded among us go diving… in a swimming pool.
That's where Karen comes in. Although she harbors an aversion to activities requiring supplementary oxygen, Karen was up to the challenge of scuba diving in seven feet of water.
[youtube_sc url="http://youtu.be/L0gNCbTT_YA"]
Our thanks to certified instructor, ice diver, cave diver, and nice guy Paul Franti, who loaned us the gear and gave Karen a mini class. And kudos to her for trying something new.
Upon emerging from the chlorinated depths, Karen reported that it was easier to breathe underwater than she expected. It was also noisier than she expected- I guess that isn't really captured in my videos (or is left on the cutting room floor).
I don't think we'll see Karen lugging scuba tanks around on our next trip, but she did say that she would like to try it again… in a more scenic environment. Some resorts offer "discovery dives," where they take uncertified divers out into shallow areas nearby.
Next Stop: Cozumel? I don't think Karen would have a problem with that.