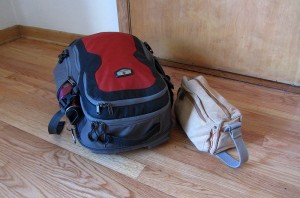 In a few hours, I leave for Costa Rica on a trip that is unusual in the grand scheme of Next Stop: World.
I booked the trip on a whim. I'm going by myself. I haven't done much planning. I'm only taking a carry-on bag. I'm not taking my laptop. In other words, I'm travelling like so many of the long-term travelers we bumped into on our trip- the ones who wake up in the morning, rub the sleep out of their eyes, and decide to catch a bus to Bangkok.
I'm thinking of it as an experiment, a taste of a simpler travel style. With friends to visit- Fernando is a native I met years ago on a work trip, Beth is a high school friend teaching English- the urge to plan is less intense. When in doubt, just hang out with my amigos. The fact that I've visited Costa Rica twice before helps too.
Karen pointed out yesterday (and it hadn't occurred to me), that this will be the longest we've been apart in our whole marriage. With her strict work schedule on the farm this summer, this might not be my last solo trip, giving the experiment even more significance.
Did I mention that it's gonna be HOT? Look at the forecast for Fernando's hometown of Liberia!
Just another excuse to kick back with a cold Imperial cerveza.
Adios for now. ¡Pura vida!