Within fourteen hours of landing in Liberia, Guanacaste province, Costa Rica, I found myself addressing a classroom full of students at the National University. To figure out how I got here, we need to go back in time.
In 1998, a team of scientists and artists from the Milwaukee Public Museum journeyed to the dry, dusty Area de Conservación Guanacaste outside Liberia. Their mission: gather the materials to create MPM's new Exploring Life on Earth exhibit. Lucky for me, video was a major component of the exhibit, so I got to go along.
For a couple weeks, I got paid to hang out in Costa Rica, recording audio while my colleague Dan shot footage of tiny ants, leaping monkeys, and arid landscapes. When our workday was through, we kicked back with cold (as cold as we could make them, anyway) bottles of Imperial under the tropical stars.
That's how I met Fernando. While we worked with many Costa Ricans during our stay, Fernando was the one I really connected with. A park ranger at ACG, he was our fixer: tell him what you need, and he'll make it happen. Our ages and senses of humor were similar, and he's the one Tico- that is, Costa Rican- I kept in touch with once we returned home. Exploring Life on Earth opened in 2000 with Fernando in attendance, and it's still serving visitors today. (Look for my cameo as you click through the interactive video screens.)
For our first big trip after getting married, Karen and I chose to visit Costa Rica. I showed Karen around ACG, where Fernando was rising in the ranks, and he also helped us reach parts of this beautiful country I missed last time: an active volcano, a cloud forest, a black sand beach.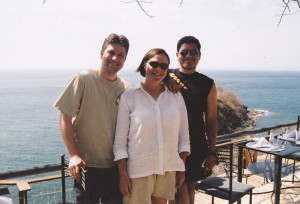 A decade later, with Karen already working and my start date approaching, Costa Rica was a prime candidate for my one-last-trip-before-I-go-back-to-work vacation.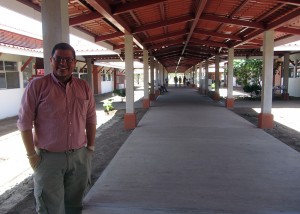 A park ranger no more, Fernando has earned his PhD and begun teaching, which is how I wound up in front of an English class at Universidad Nacional. Luckily, he warned me about my academic engagement in advance, so I brought photos of the MPM exhibit and explained about the slice of Costa Rica that lives in Milwaukee.
During the Q&A, I covered the differences between Texan and Minnesotan accents (they've never heard of the movie Fargo), drew a stunningly-accurate US map, and promoted Milwaukee as a filming location for Transformers 3 (they've heard of that).
Several of the students spoke excellent English- and asked most of the questions. Others were more reticent, and given the sorry state of my Spanish these days, I can easily empathize.
Fernando gave me the grand tour of his campus, its open-air classrooms situated in the midst of a dry forest. And it was hot. Like 95 degrees Fahrenheit. I don't know how the students think straight in this heat. And I don't know how the male students get any work done with their female counterparts running around in the shortest shorts and least clothing possible. (I'm not sure whether the guys' appearance is equally distracting to the señoritas).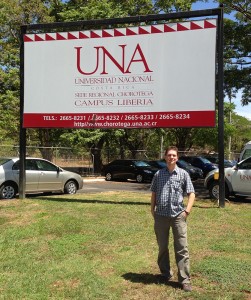 With my "work" complete, it's time to go on vacation. Next stop: a volcano!