Most visitors to Costa Rica arrive in San Jose, stop off in the rainforest of Manuel Antonio National Park, and then hit the beaches. Not me. Mi amigo Fernando lives in the drier northwest of the country, so that's where my excursions tend to be.
Volcan Rincon de la Vieja is an active volcano surrounded by a national park. Its most recent eruption was in September 2011, so it's no surprise that the hiking trail around the crater is closed. Fernando and I instead hiked through the surrounding forest, marveling at ropey tree trunks and gurgling mud pools.
And while we're here, why not go ziplining? From an educational standpoint, careening past an area's flora and fauna at great speed is pretty pointless. But it sure is fun!
[youtube_sc url="http://youtu.be/AqlgMGdzXu4″]
Done right, ziplining isn't particularly dangerous. That said, Fernando and I both raised an eyebrow at this crew's antics, goofing around and chattering on as they leapt from platform to platform. Some of the things they said were, Fernando reported, not particularly professional. He declined to translate.
Despite our best efforts, Fernando had to convey some bad news to Karen:
[youtube_sc url="http://youtu.be/_IlAr7G9-DY"]
At least I hope she would consider that bad news. Somehow, I survived. Taking a break at a restaurant, we got a front-seat view of how Ticos herd horses…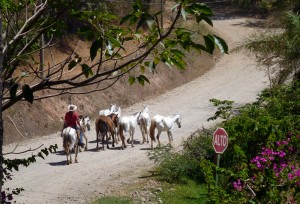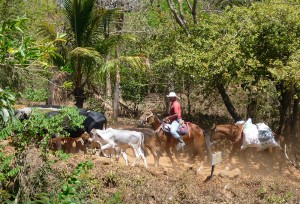 … And people. Old US school buses are a common sight on the roads here, though the giveaway text is usually painted over.
It was a tiring and exhilarating day. And a dirty one, as I discovered when I took off my socks. That's not a suntan- just a couple layers of Costa Rican dust.