* Smile sold separately
If it wasn't for Sao in Khao Lak and her beautiful, genuine smile, we would have wondered how the Thai tourism board ever came up with the slogan "Land of Smiles" (frequently misprinted as Land of Smile). Sao was truly kind and helpful, going above and beyond what one would expect of a guesthouse manager.
There is much despair in Thailand. Filth, corruption, unclean water, maniacal drivers, destructive tourism, deceitful touts, loads of scams. The land of smiles is really more like the land of sneers. Thankfully, we found some lovely people and joyous times here, yet you gotta deal with a lot of crap to find the nicer side of Thailand.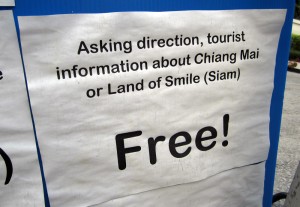 Tourism is big business in Thailand. Most tourist areas are filled with the Same Same. Fake tourist info centers pushing their own private tours, restaurants with 12-page menus serving mediocre food, bars cranking up American pop songs. I met a new breed of tourist in Thailand: the middle-class Russian. Think Chinese tour groups are exciting? Try spending an hour with over 100 Russians at a waterfall. If my one-time, stereotypical observations are "correct", most Russians are grossly overweight and wear the smallest swim attire they can find. They unashamedly practice their centerfold poses for the next issue of Playboy. (Where do they post these photos?) Too bad I didn't see them at the bar later that night. I can only imagine the scene.
We heard that sex tourism makes up 20% of Thailand's tourist income. The sidewalks are filled with old, Western men walking around with their young, Thai girlfriends. The girls look miserable or at least bored out of their minds. The men look oblivious and content.
The stereotype is that Thai men are bad husbands: beating, lying, stealing and cheating on their wives. This leads some Thai women to look elsewhere. Western men pick up girls in bars and one day marry them. At that point, some men are in for a surprise, as their meek Thai wives reveal their true personalities and become more demanding. Other Thai bar girls string along several Western boyfriends, each of whom only lives in Thailand part time. See how twisted this whole system is? I was delighted when I saw what seemed like wholesome and healthy Thai-Western marriages.
Scams are rampant in Thailand, from the tuk-tuk tour at a price too good to be true, to the fake accident set-up, to the jet-ski and motorbike rental rip-offs, to the-lose-your-shirt gem scam.
With all that going on, how can Thais like tourists, and how can tourists like Thailand? It was in this country that I began to think that tourism may be a bad idea, period. It can bring out the more unattractive side of people. I'll keep stewing on this one and see if I have any firm conclusions later.
Back in the Land of Smiles, if you see a nice smile, that person is probably trying to save face. Saving face is basically a way of life for the Thai people. They have numerous phrases for this concept. Boiled down, saving face is about making nice, never saying no, telling people what they want to hear, not getting into an argument, covering for someone if they are in the process of losing face. Definitely a 180-degree turn from how most people interact in the US.
For me, all this saving face business feels phony. How can you trust anyone if everyone is smiling, lying, telling you what you want to hear? From my perspective, it feels like a system for squashing true emotions. I can imagine many of these people winding up needing psych care. A scary prospect, as many hospitals are stuck in the dark ages… electroshock therapy is still used on psych patients. Saving face can also be taken to the extreme. Not happy with someone who caused you to lose face? Kill your offender. Many times you won't even be punished. We heard a couple of these stories and were saddened.
Maybe some of the animosity comes from the wage discrepancies we noted. A foreigner teaching English as a second language earns about US$1000 per month. That person pays rent on a small apartment at about $130 a month. Electricity runs $17 and water is $3. By contrast, a northern Thai woman, picking tea leaves for a living, makes about US$4 a day, or $100 a month, when there is work. She most likely lives without electricity or running water.
Life is even tougher in northwestern Thailand. Over 2 million Burmese refugees live on the border, with others venturing into Thai cities. The Thai government has given them land to create camps. Some are awful, some are nice. There are few educational opportunities for the kids in these camps, so NGOs help out. Time will tell if Burma will allow these people to safely return to their rightful homes.
Few tourists see much of this, as they head south to hit the beautiful beaches and islands. We hit them too and especially enjoyed our four nights on a scuba diving boat in the Andaman Sea. Thankfully, half the staff were Thai people, including one of the dive instructors. These people worked hard, usually getting up at 5am and not sleeping until after 10pm. They may work weeks or months at a time, as tours depart continuously throughout the diving months, October through May. Even with a grueling schedule, they were professional, friendly and quite funny. One of the cooks told me she wouldn't dream of diving, as she is scared of the water, yet she asked me to say hello to the manta ray for her. And I got the chance to do just that!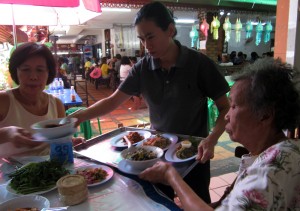 No wrap-up of Thailand would be complete without talking about the food. While the pad thai is different than what we eat at home and nowhere did they serve volcano chicken, we did manage some very tasty eats:
Green curry with small green eggplants
Cinnamon-scented chicken, grilled in pandam leaves
Pomelo salad
Sticky rice with mango
Nam prik (anchovy dip) with veggies
Massaman curry
Fresh spring rolls with no noodles and spicy green vinegar dip
Miang Kham or fresh leaf appetizer with sweet shrimp dip
Fried chicken from a street stall
Coconut ice cream with fresh, shaved coconut on top- contains no milk
Thais drink their beer on ice, which actually makes the light lagers much more palatable. When not drinking beer, the norm is to order full bottles of whiskey. Choose your bottle, order some soda water or Coca-Cola and a bucket of ice, and then make your own drinks. If you don't finish the bottle, the bar will label it for your future consumption or you can take it home. A full bottle of Thai whiskey can run around US$6 from the store, while Johnnie Walker Red is about US$20. We engaged in this Thai tradition one night, finishing the whiskey (and Cokes) the following night.
Before we came, we dreamed that Thailand would be full of spicy food and friendly people. Although both are out there, it took some work to find them, which made us wonder if we were welcome in the country, or just tolerated. Thankfully, people like Sao, Arob and her friends, and the dive boat crew helped us enjoy our time in the Land of Smiles.