The Taj Mahal worried me. How could it possibly live up to its associations with grandeur, romance, awe?
The second day of our guided tour started at Agra Fort, a walled city captured and lost by emperors across the centuries. Shah Jahan, builder of the Taj Mahal, was imprisoned here by his son, Emperor Aurangzeb, in 1658. For eight years, until his death, Shah Jahan had a view of the Taj Mahal from his marble bedroom.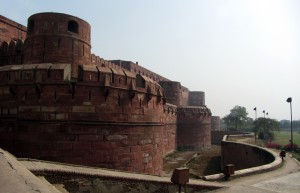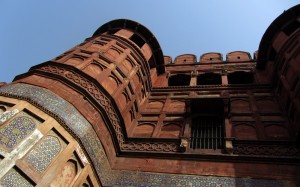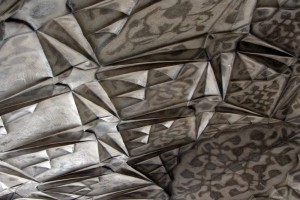 We got a tantalizing glimpse of the Taj in the hazy distance.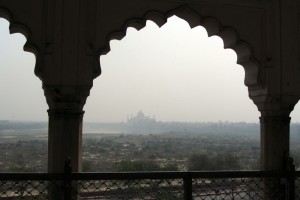 Less haze than a few years ago, apparently, when nearby industrial plants were churning out pollution, turning the Taj's milky white marble yellow. The Indian government, in an uncharacteristically proactive move, created a zone around the Taj Mahal where strict emission standards are in place and banned exhaust-producing vehicles from the immediate area.
Our bus dropped us off at a roundabout, from which the Taj tourist has a choice of eco-friendly transport: camel, pedal rickshaw, electric tram, or your own two feet. Navin loaded us into a tram for the ride to the entrance.
Romance was in short supply, as throngs of tourists jockeyed for position in various lines: tickets, audio tours, entry. As we waited for Navin to arrange our tickets, we had the privilege of watching a toddler take a dump on the Taj Mahal's front lawn. The only admonishment from his mother was the Hindi version of "hurry up".
Tickets in hand, we entered the grounds.
[youtube_sc url="http://youtu.be/KP-9KG-G5pI"]
Yes, it was a noisy mob scene. Yes, the morning's haze persisted. Yet the Taj Mahal was magnificent. First from afar and then up close, I marveled at this artistic and architectural triumph, a marble mausoleum dedicated to Shah Jahan's beloved wife, Mumtaz Mahal.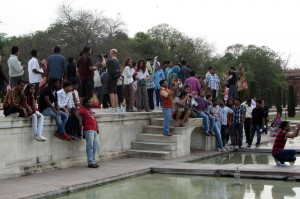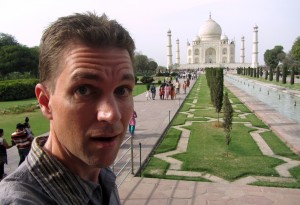 This was also Karen's debut: she added a dash of color by wearing her newly-purchased sari.
As she wandered the grounds, she turned quite a few Indian heads and became the star of more than a few photos.
Exchanging our shoes for booties, we shuffled into the main building, the tomb. Inside the main chamber lies the exquisite marble sarcophagus of Mumtaz Mahal, and next to it, the final resting place of Shah Jahan (well, their actual graves are underneath this room). The sarcophagi are enclosed by an ornate latticework wall. No photos are allowed but people were snapping away, between admonishments from the guards (also wearing booties). Some beautiful pix show up on wikipedia.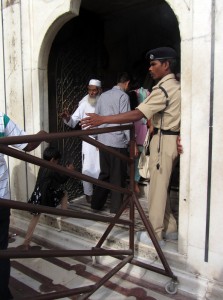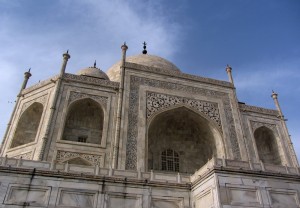 Many of the Taj tourists were Indian, and it was great to see them enjoying their cultural heritage. Signage was forever pointing foreign tourists along one path and Indians along another- why, I wondered? Who was being favored? Just about everyone ignored the signs anyway.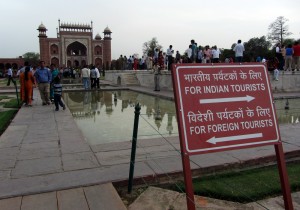 Happily, we were allowed plenty of time here. The idea was to see the sunset turn the Taj pink, but the overcast weather muted the effect. Instead, we had time to sit on a park bench, people watch, birdwatch, and snap more photos. A peaceful evening surrounded by hundreds of people.
Leave it to the Taj Mahal to surprise and delight the weary traveler.