We weren't expecting to be back in Milwaukee this summer, so we sort of, well, sold almost everything we owned: our house, both our cars, our TV, our couch. We have a roof over our heads thanks to the generosity of friends. But how are we going to get around? Milwaukee jams a ton of fun into these three summer months, since the specter of a massive snowstorm forever hovers over the other nine. Summer fests aside, there are errands to run, groceries to buy, library books to check out.
The traditional US response popped into our heads first: buy a car. Hmm. We've spent the last nine months getting around without one… could we do it in the famously automobile-centric US? We decided to try.
Our bicycles (we kept those, or more accurately, gave them to my parents) were instantly useful. Our home base in Wauwatosa was deliciously bikeable, and I do mean deliciously, since I tended to wind up at Cranky Al's bakery/cafe a couple times a week.
Bikes can only take you so far (and your butt starts to hurt on the way there) so we also bought a scooter- also known as a 49cc moped- essentially an underpowered motorcycle that you're allowed to park on the sidewalk for free.
It's a peppy red Honda Metropolitan with a white trunk and a Dairyland pedigree: it was used in the 2011 Rose Parade, when the Wisconsin Badgers were in the Rose Bowl (hence the color scheme). Getting an amazing 110 miles per gallon, it's the perfect ride for zipping around town, with one downside: it's only for one person. Not only would adding a rider exceed the vehicle's weight limit, carrying a passenger on a moped is illegal in Wisconsin. That's the trade-off you make for all that free sidewalk parking. Did I mention it's free?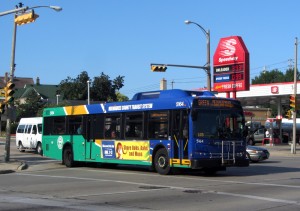 How would Karen and I go places when we both wanted to go places? Take the bus, of course. Milwaukee has a pretty great bus system. Studying the system map, I was dazzled to see how easily we could get around. The #31 whisks us directly downtown from our Tosa home. The #10 carries us all the way to Brookfield, and comes in handy again once we've moved to Riverwest. Hooray!
Yet… I must be honest with you: we've hardly taken the bus. Because our friends are too nice. We have been overwhelmed with offers of help. Instead of busing to Brookfield, Chris drove us and my mom drove us back. We have borrowed cars left and right: from Marcy, Amy, Laura, David, Phillip, Pam, Eric, Di, Karen's dad, and my mom. Avis can't begin to compete with this outpouring of transportational generosity. We've gone carless, without actually going carless. We've given into US car-centricity without investing in a car and insurance and maintenance (though we've paid our share of fuel costs).
Upon our return, I was happy to discover that Milwaukee now has Zipcar offering short-term car rentals, albeit at limited locations near Marquette and UW-Milwaukee. It's a start.
Yes, we do sometimes take the bus. Waiting for the #51 the other day reminded us that just as we were wildly wealthy compared to, say, passengers hopping a bus in Pokhara, we are also rich people here. Plenty of Milwaukeeans don't own a car and don't have friends offering a loaner. When the #51 rolled up 20 minutes late due to a breakdown, other passengers were nervously calling their bosses, apologizing for being late for work. We were late for the State Fair.
Despite the inevitable budget cuts, the Milwaukee County Transit System does a lot of things right. They've updated their fleet with 136 clean diesel buses, and they offer access to disabled riders, not to mention bike racks on every bus. They serve college students and commuters with discounted passes and have an Emergency Ride Program to keep riders from getting stranded in case of a breakdown. MCTS provides over 40 million rides a year; a lot of people get around this city without car insurance, maintenance, and those pesky fuel costs. I'm glad my tax dollars supported MCTS all those years (sorry, not this year- we're not paying any property taxes).
Hopefully our excursions have been as efficient as possible: biking short distances, scootering or busing on medium-length trips, and utilizing cars that would otherwise be sitting in driveways for the long hauls.