The Great Wall of China stretches 3,500 miles across mountains and valleys. Many tourist spots exist to satisfy the varied interests of visitors, and many tour companies are ready to take you there. Hearing that most tours include time-wasting, money-sucking stops at jade factories and the like, we opted for a private driver, arranged with the help of our Hong Kong friend Amanda. Hiring a private car allowed us leave early enough to miss the rush hour traffic in Beijing, while giving us plenty of time to shudder in horror at the driver's speed and recklessness. Hey, it was actually cheaper per person than joining a tour.
Each day that we've been in Beijing, the haze has gotten worse. Today was a new high (or should I say low).
[youtube_sc url="http://youtu.be/byIWI8FfBVY"]
We visited the Mutianyu section of the Great Wall, which offers close proximity to Beijing, smaller crowds, and a few miles of wall to hike. It turned out to be a perfect spot for us.
After we passed the gauntlet of t-shirt and dried fruit sellers, we boarded a cable car for a quick ride to the Wall.
One could most likely hike up, yet we didn't bring our rock climbing gear.
Once up top, we marveled at the rolling, tree-covered hills surrounding us. Well, the ones we could see. Even though we were far outside of Beijing, the Wall was also plagued with haze, most likely caused by a combination of pollution and proximity to the Gobi desert. This desert is encroaching Beijing and causes dusty haze all around. Scientists believe that one day, perhaps in our lifetime, Beijing will be covered in sand.
The cable car drops passengers right in the middle of the walkable area, where we learned that a German company was instrumental in restoring this section.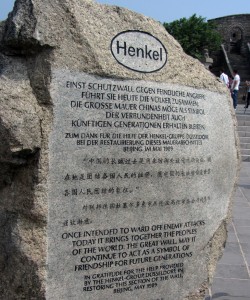 We chose a direction and started hiking upward, stopping to explore the watchtowers along the way. We imagined the soldiers who stood in these towers, hour after hour, looking for the enemy. Our only enemy was the haze. Still, it was lovely to be walking this ancient monument.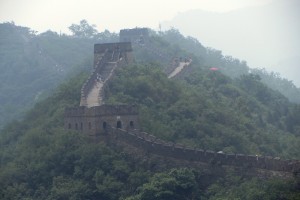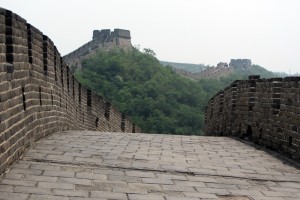 The walk eventually turned into a climb, involving steep steps, best maneuvered by scrambling with feet and hands. Ken ventured ahead of us, upward, upward.
[youtube_sc url="http://youtu.be/IB88-LRu6ts"]
Angie and I eventually joined Ken on this unfinished section of wall. It was incredible to see how overgrown it was and how much work had to be done to refurbish the portion of the Wall we walked earlier. That "no entry" sign must not hold much power, since there was a vendor set up here, eagerly offering postcards and bottled water.
Making our way downhill and back the other direction, we were treated to more views of this wonder of the world.
Finding that about four hours of hiking around was enough, we needed to decide how to get off the Wall. Well, looky there, a toboggan ride down! Thanks, German company that wanted to make some money and give us a bit of fun. For the equivalent of about US$10 each, we added a little excitement to our day.
[youtube_sc url="http://youtu.be/jnYHsfrxdNY"]
We follow the blogs of other travelers and occasionally even cross paths with them. Our friends at the Globe Less Traveled were in Beijing the same time we were and decided to tackle the Jiankou portion of the wall. An unfinished section, this over five-mile hike requires one to scramble up crumbling wall faces. While we mourn their loss of a fun toboggan ride down, we admire their chutzpah at going the less traveled route. No one was trying to sell them Snickers and Coke on that section of the Wall.
The Great Wall is one of those tourist sites that some people may tell you to skip: too touristy, too crowded, too boring. Not so. The Wall is a gem on our planet, worth every effort for a visit.
P.S. For anyone who is interested, here is the unedited footage of Ken's entire toboggan ride down the Wall.
[youtube_sc url="http://youtu.be/GXMEMqBMgJg"]