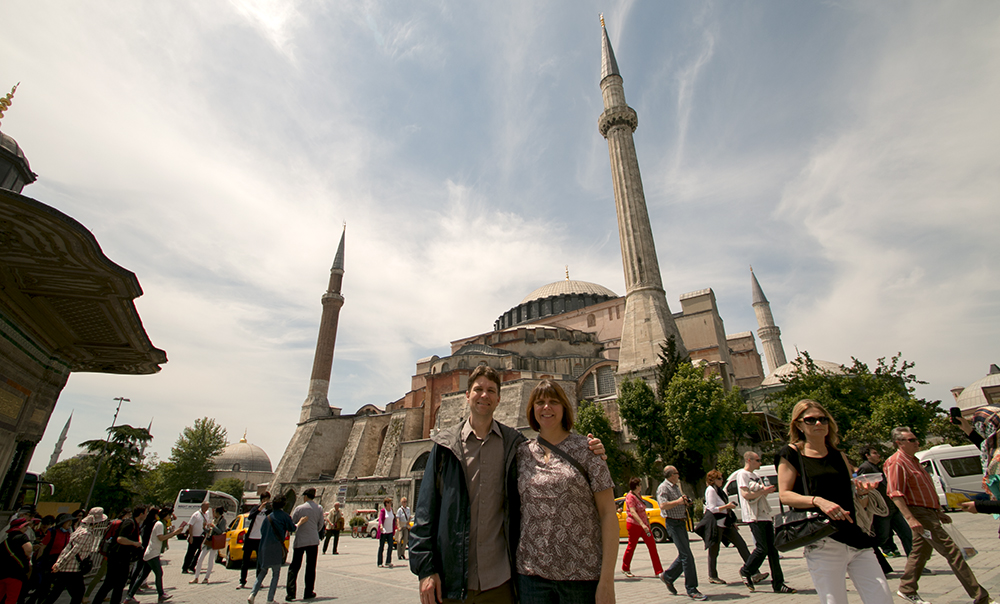 A visitor could spend a week in Istanbul and never leave Sultanahmet (and I'm sure many do). Fearing yet another sales pitch about buying a rug or taking a Bosphorus tour, we ventured beyond the tourist area.
Come for the architecture, stay for the deals: welcome to Istanbul's Grand Bazaar. Daniel Craig's James Bond careened through these corridors on his motorcycle, and all I got were a couple of cheap (after haggling) t-shirts.
Suleymaniye Mosque stands beside the Grand Bazaar. Circling it on the map, the clerk at our hotel told us, "Forget about the Blue Mosque. This is the most beautiful mosque in Istanbul."
The open courtyard is a refreshing break from the crowded streets, and the interior ornamentation is understated compared to its showy big brother. I must admit I was more awed by the Blue Mosque- probably due to its prominent place on the Istanbul skyline.
Karen got caught in the gravitational pull of the Spice Market, where she loaded up on dried fruit snacks for later and spices to take home. We never did figure out what the widely-advertised Turkish Viagra is.
As the sun went down, we retired to… where else? A rooftop terrace.
As we prepared to leave Istanbul for other Turkish adventures, we pondered some of the other sights we've seen in this crowded, graceful, noisy, enchanting metropolis.
And one more shout out to Karen's cousin, Jamie, for getting us off on the right foot all those weeks- oh wait, we only got here a few days ago. Oh well.