Next Stop: Muppets!
December 1, 2015 | by Ken
It was a Muppet pilgrimage. And it was not my first.
A few years ago, the Henson family announced that it was donating oodles of Jim Henson artifacts to Atlanta's Center for Puppetry Arts. How much stuff? The Center broke ground on a new building to house it. This I had to see. And why not see it on opening day, when you just might bump into some Muppet celebrities?
Karen (yes, she decided to come along and watch her husband turn into a kid) and I arrived early, in case there was a ribbon-cutting ceremony. There was, but we weren't VIP enough to get in, so we checked out the new building.
With the ribbon-cutting and all, I was hoping some Muppet luminaries would show up. When Karen said, "There's Fran," I was (a) thrilled to catch a glimpse of Fran Brill, an original Sesame Street puppeteer who recently retired, and (b) thrilled that Karen knows who Fran Brill is!
We were moments away from another celebrity sighting: a meet-and-greet with Sesame Street's Abby Cadabby and her performer, Leslie Carrara-Rudolph. I dutifully stood in line with a gaggle of little girls in fairy princess dresses, and here's what happened when I finally got to meet and/or greet.
Back in the lobby, keep your eyes open. You never know who will turn up.
Finally, we entered the museu- wait, nope, we had tickets to the Center's holiday show, Rudolph the Red-Nosed Reindeer. It was a good show, with another celebrity sighting and a chance to make some puppets of our own.
Can we go in now, pleeeeease? Yes, we can.
Behold, Jim Henson's desk. And Jim Henson's moose lamp. Geeky stuff, and I loved it. We eavesdropped on a museum staffer giving a tour to a friend. He said, "This is Jim Henson's actual desk. I don't know how long we'll have it, but it's here for now."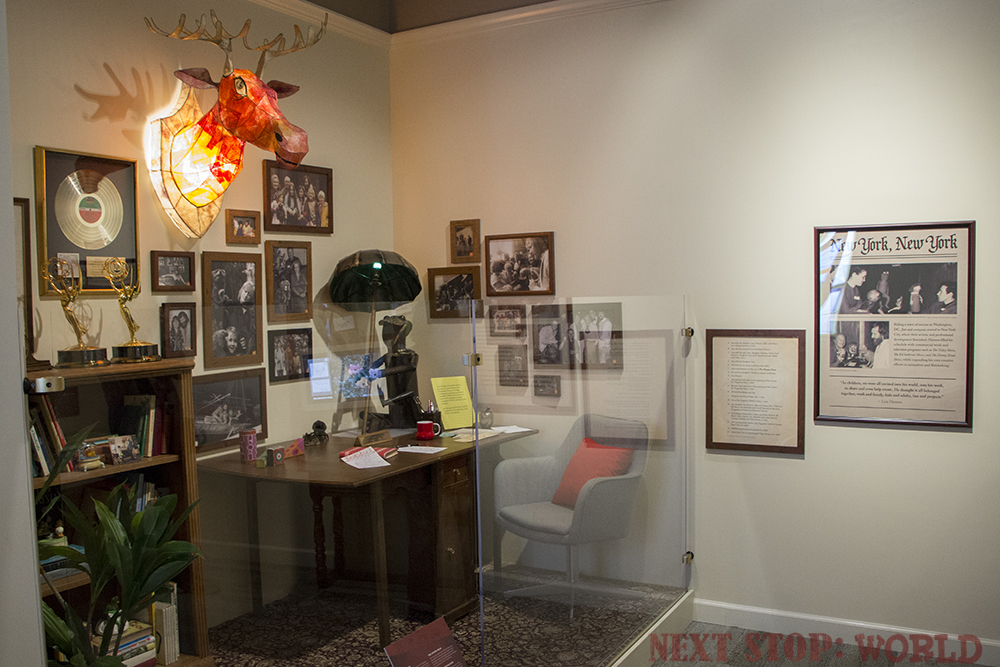 Then came the puppets, from all eras of Jim Henson's career. It's kind of a blur from here on out. Java and Rowlf… Sesame Street… The Muppet Show… Fraggle Rock… Labyrinth… The Dark Crystal… and more.
Jim Henson isn't the only game in Puppettown. The Worlds of Puppetry Museum also houses a global puppetry collection.
We'd been at the museum for hours. Scouring every inch of two new puppetry exhibits left me tired, thirsty, and hungry. My brain was full. So of course, I went through the whole Jim Henson exhibit again, while Karen waited in the lobby.
This time it was about looking more closely at the craftsmanship of the puppets, like the exact placement of the eyes. See how the felt circles have a slit cut in them so they lay flat? And the designers use feather-y materials in places you wouldn't expect, like Sprocket's whiskers. Beyond Don Sahlin and Faz Fazakas, I'm not that familiar with the names of the puppet builders, so I studied the work of early Henson collaborators like Bonnie Erickson, whose name was listed on more than a few puppets, including Miss Piggy.
A series of texts from Karen shook me out of my reverie. She had spotted "the woman from Avenue Q." After seeing that show a decade ago, Karen can spot Stephanie D'Abruzzo from across a room? I made a beeline for the lobby, which now contained a beer and wine bar (Karen was halfway through a glass) and lots of nicely-dressed people wearing black. There was obviously a VIP event coming up. Sure enough, that's Stephanie D'Abruzzo and her husband Craig Shemin (President of the Jim Henson Legacy), chatting with Sesame Street's Pam Arciero.
I decided not to bother them with giddy fan gushing, so I caught my breath on a bench and noticed the nametag of the woman across from me: Bonnie Erickson. Unable to hold back my fan gushing, I marched over to her and told her, "I just took a thousand pictures of your handiwork." She laughed, and we talked about making Muppets and things to do in Atlanta.
Jim Henson Company archivist Karen Falk came over to see Bonnie, which gave me the chance to thank Karen. You see, I emailed her a Muppet question years ago (like, via Netscape), and she immediately fired back the answer. Bonnie, Karen, Karen, and I chatted for quite a while about the other Jim Henson exhibit that is being prepared, this one at the Museum of the Moving Image in New York.
That's right: stay tuned for another Muppet Pilgrimage in 2016.